Yes & Yes Yes 002
---
Yes & Yes Yes 002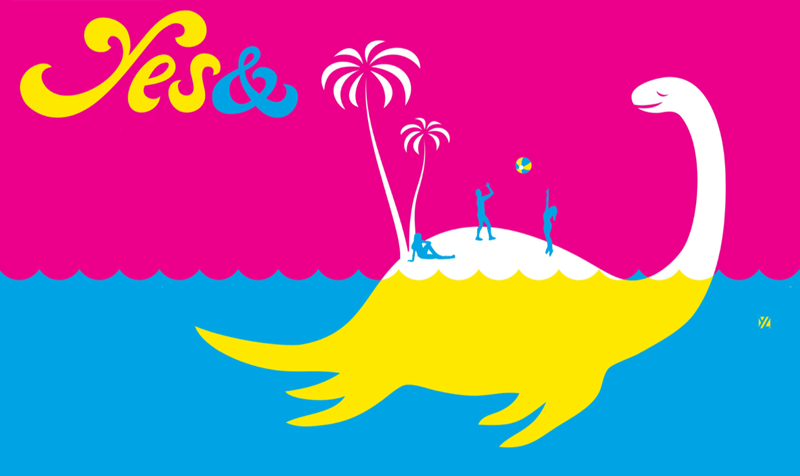 YxYY, a four-day gathering for "thinkers, futurists, nerds and weirdos" designed to foster informal bonding and intelligent dialogue, announced their new name "Yes AND Yes Yes"  during its second annual event in Palm Springs, California in July 2014. I was delighted to help the team YxYY creating their new logo – inspired by the popular improv mantra "Yes, And…" (hence the ampersand), as well as the theme art for this year.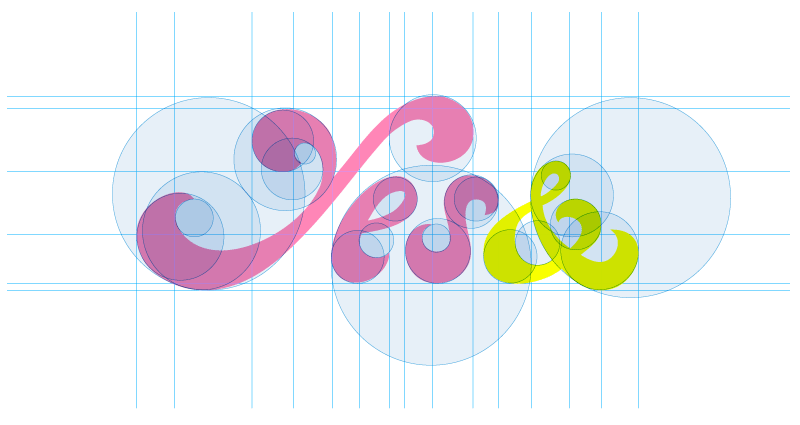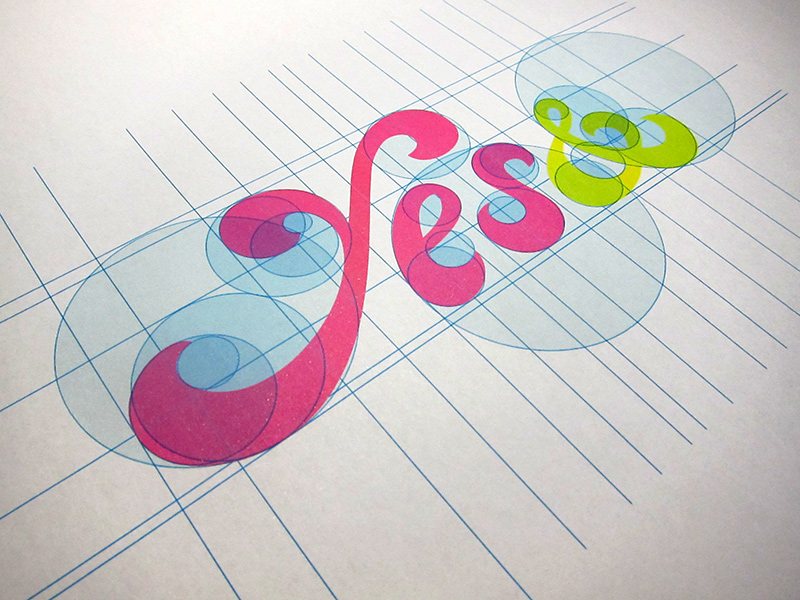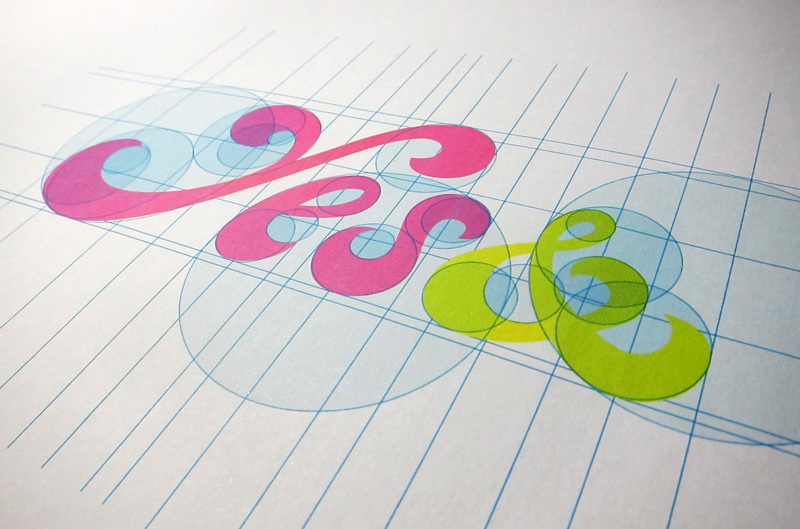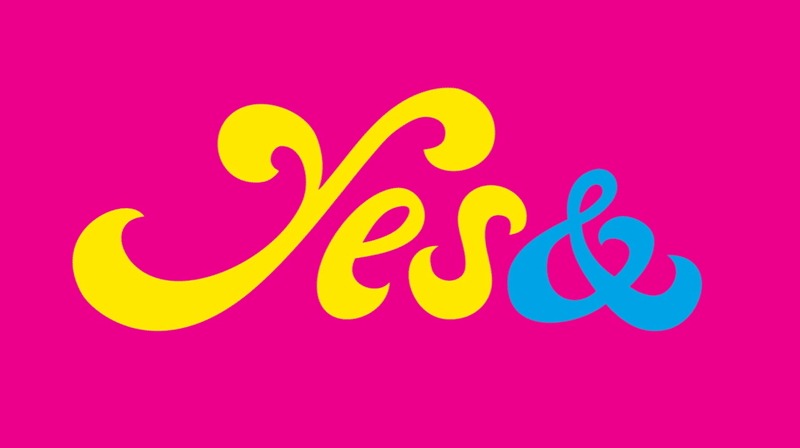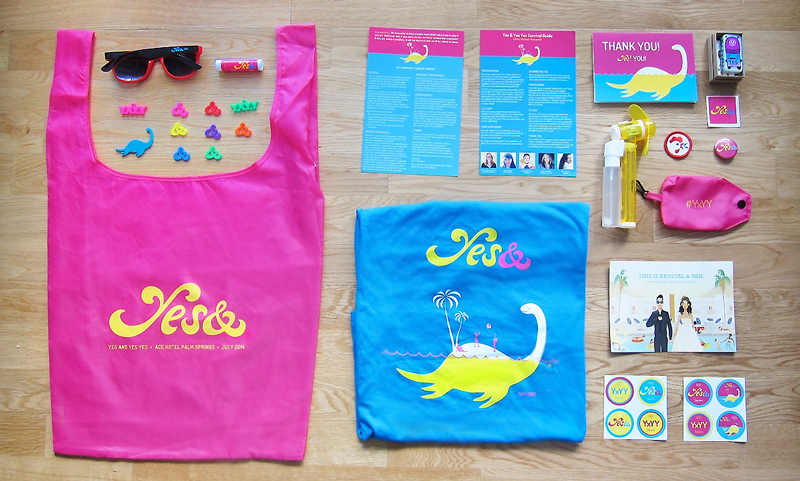 YxYY founders: Ann Larie Valentine wearing YxYY 002 fashion accessories, Willo O'Brien & YesSaurus: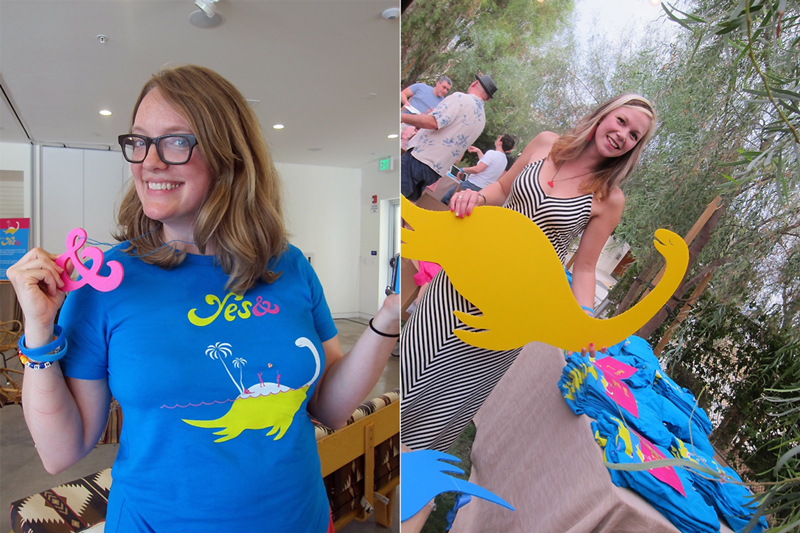 YxYY Sticker Badge Sets: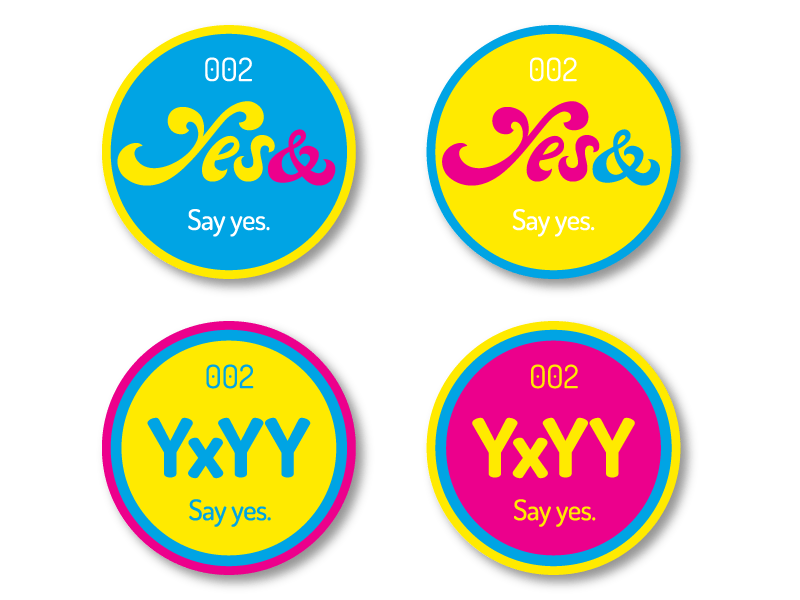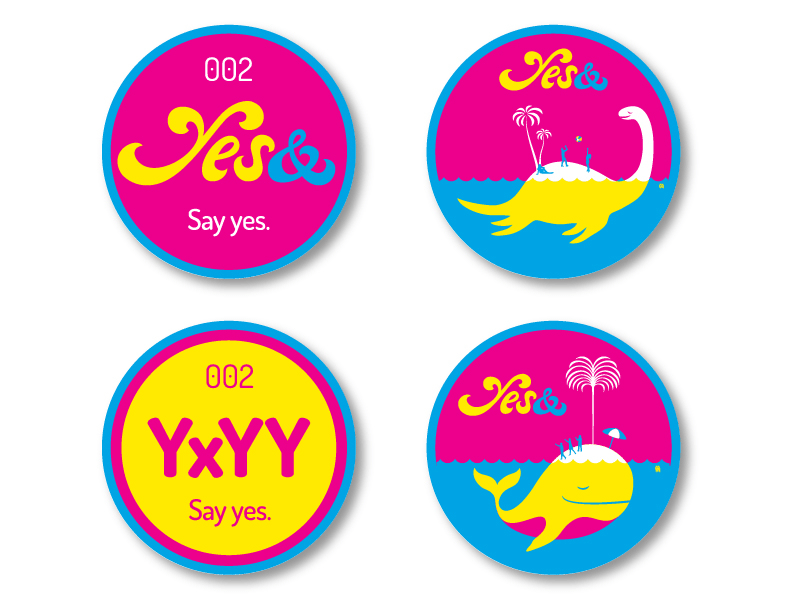 What I love about this project is that: it is not only just an individual design / artistic practice, but also a creative journey with others – where the community of YxYY's co-created together.
3D printed Ampersand charms by John Biehler (Those lime green ones are glowing in the dark):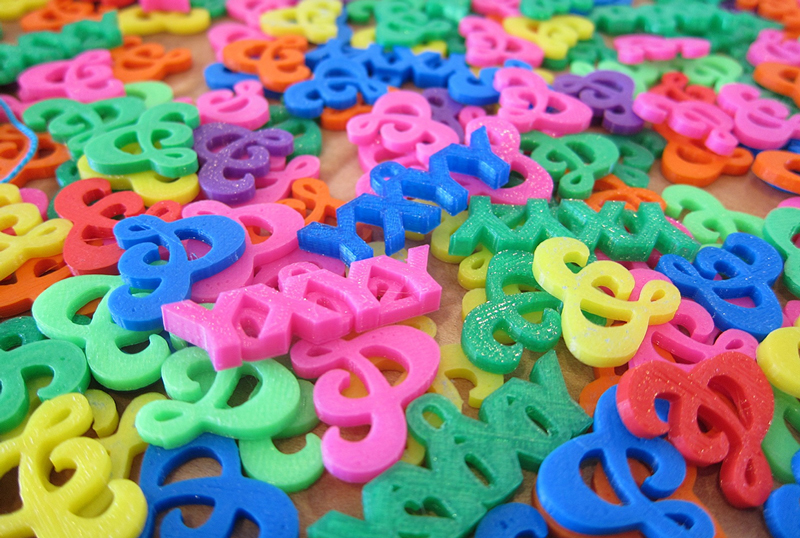 Ampersands Friendship, Photo by Jenni Leder: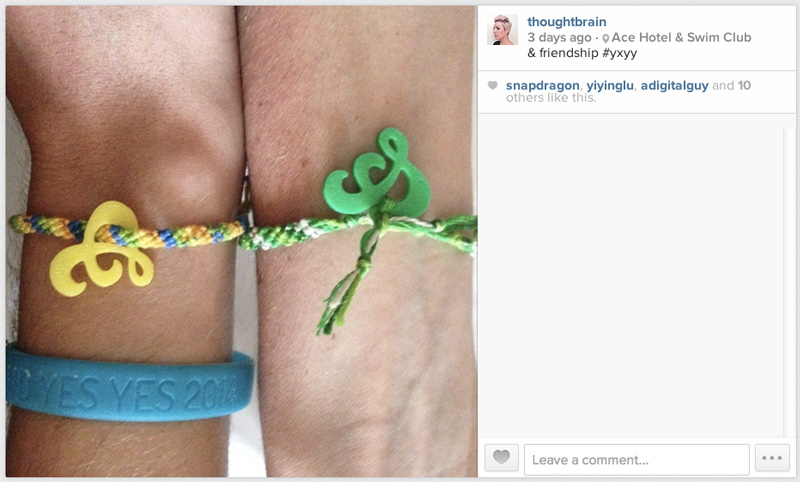 Ampersand Necklace, Photo by Andrey Wu: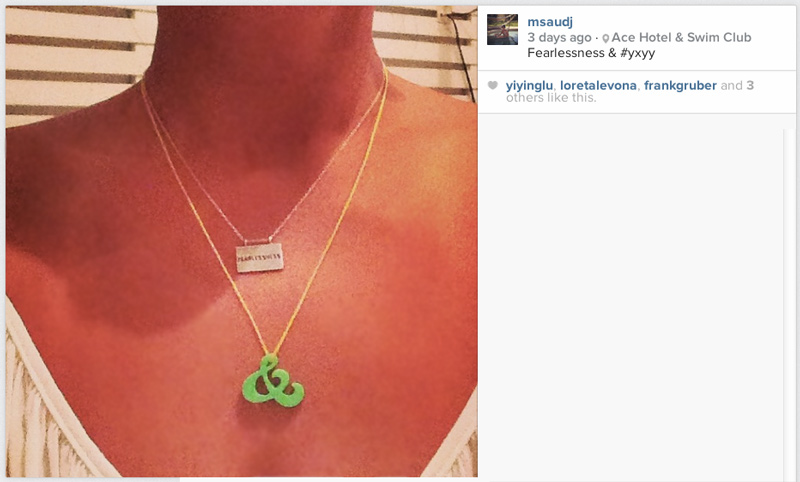 Ampersand Signage, photo by John Bernstein: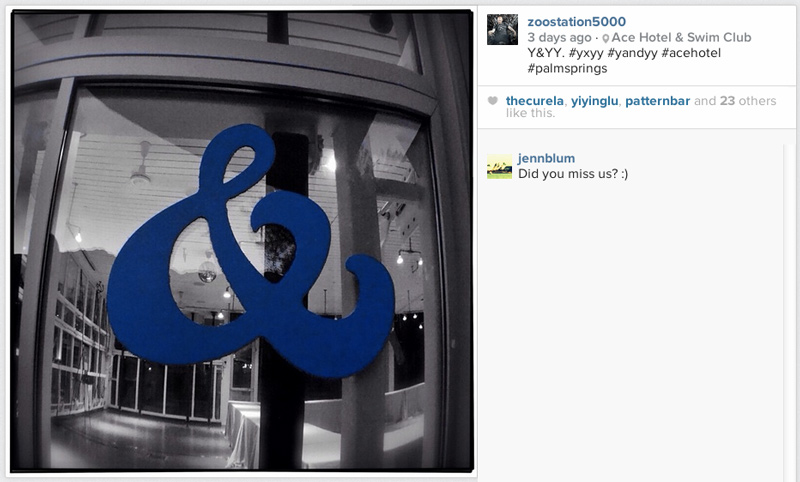 Amelia V Mendez from Autodesk made 3D YesSauruses and Ampersands charms / signages, cut by waterjet: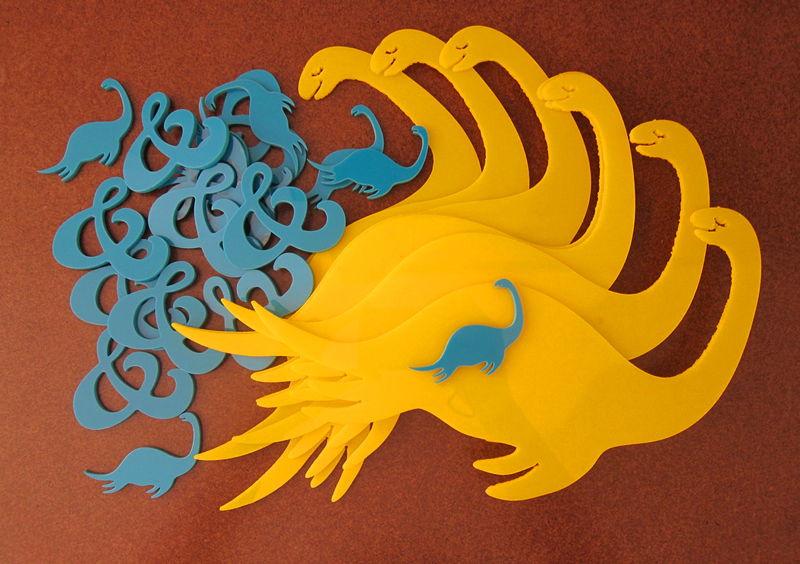 YesSaurus Signage in action, photo by John Bernstein:

YxYY App by Claire Armstrong, features my artwork into the photo app, where users could incorporate the illustration elements into their photos via social media: (photo below by John Biehler)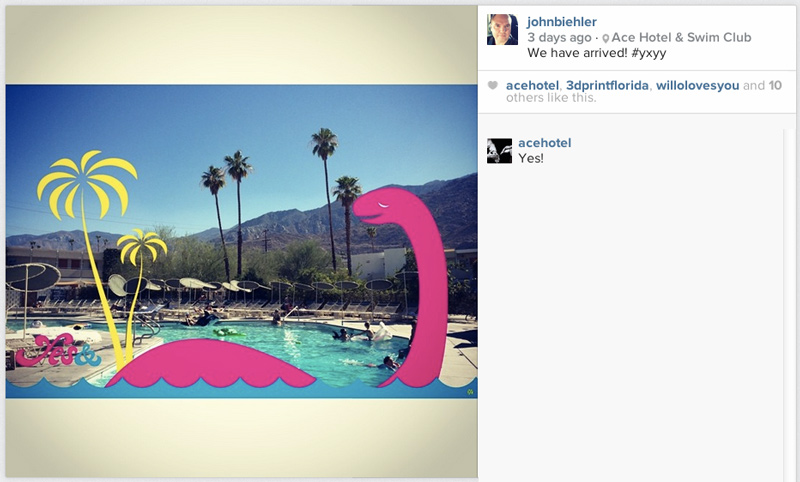 Photo by Kim Chestney Harvey: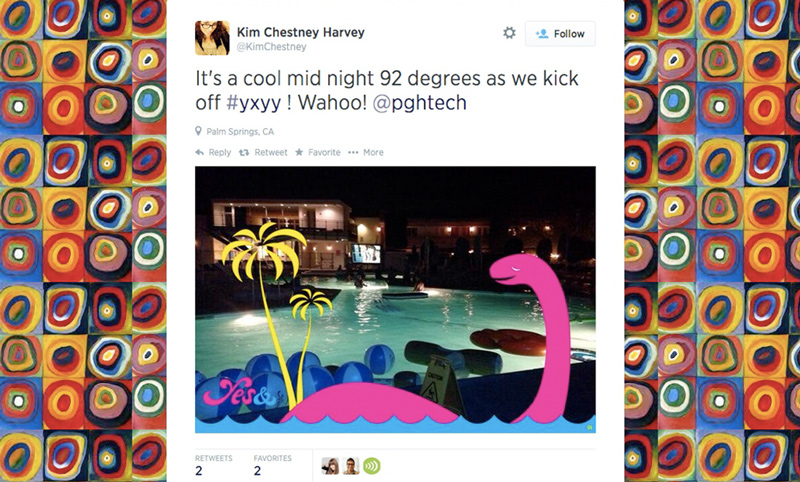 Photo by Willo O'Brien: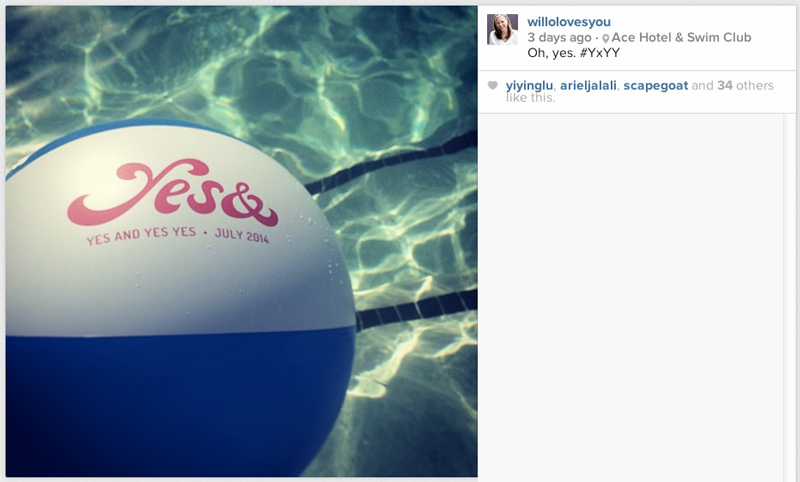 Poolside light painting by John Biehler: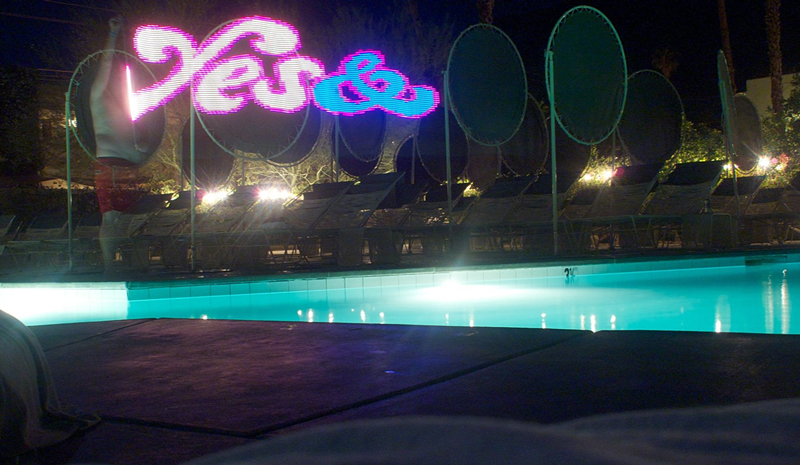 YxYY Signages by James Home & Willo O'Brien: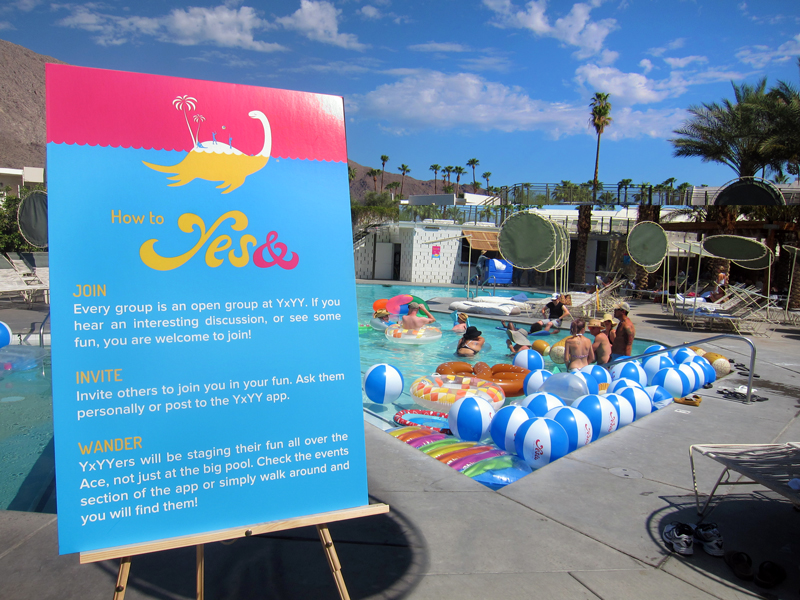 We had 3 days of fun gatherings, interesting sessions, creative discussions, and a surprise wedding of Ben & Krystal during this year's YxYY event: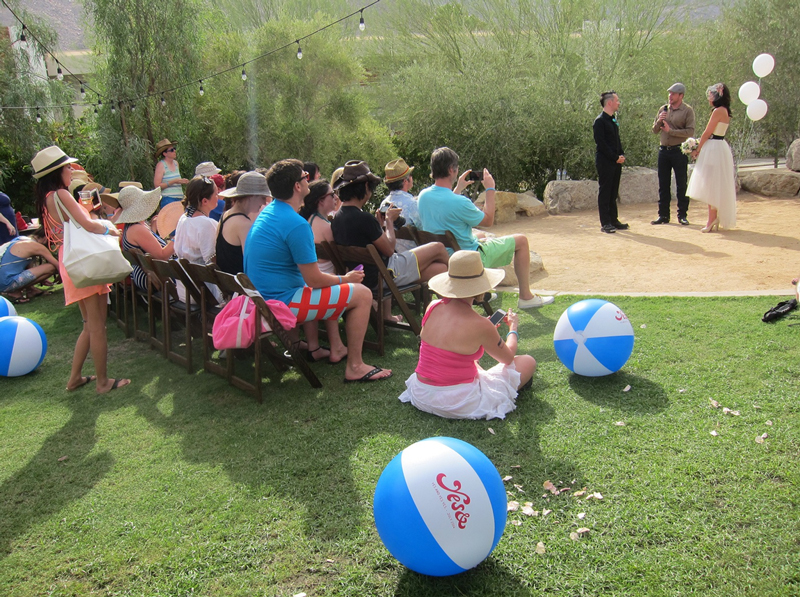 Ben & Kryistal said "Yes" to each other, Photo by Tina Hui: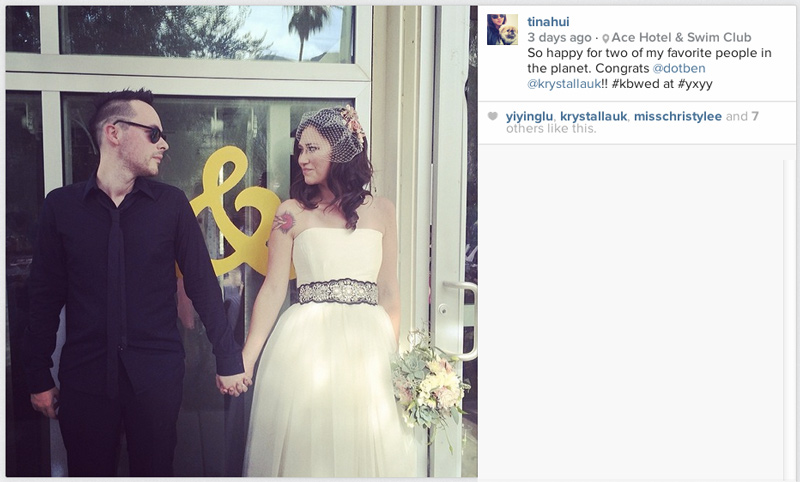 YxYY Founders Willo, Amy, Debs & Hillary @ YxYY002 Prom "Winter Wonderland", Photo by Sam Friedman: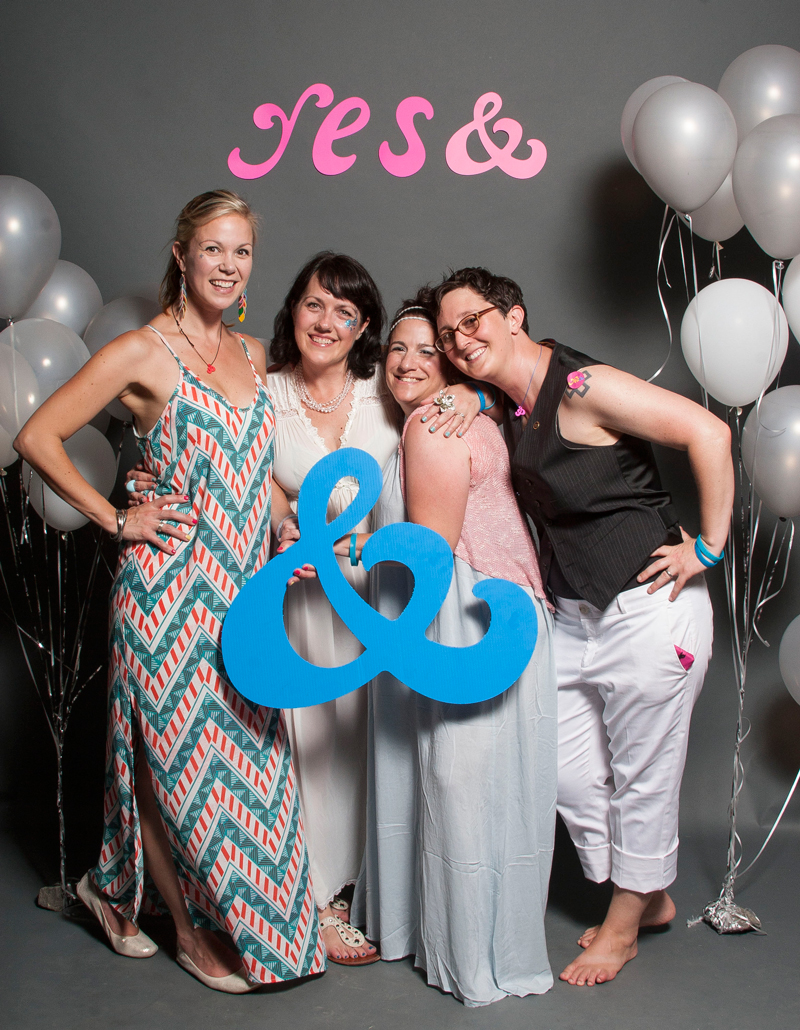 And in case you are wondering why an apatosaurus for this year's Yes And theme art?
It all starts with a cocktail drink in the YxYY venue AceHotel last year called "Speedy Gonzales", I accidentally pronounced it as "Speedo Godzilla", and the bar tender said if i see a Godzilla in the pool wearing speedo next year on the T-shirt, I will be totally sold.
So here was my first draft of this year's art: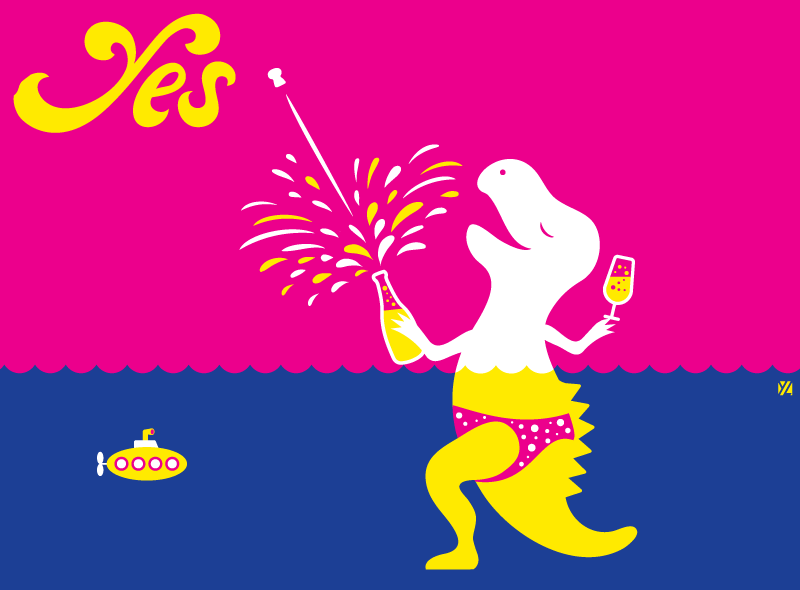 The team said 'we love the color and it's fun, we'd prefer no alcohol on the T-shirt, although the event is fun, but we don't want to be portrayed as "just a party" – perhaps add some meaningful connotations as your last year's artwork.'  Agreed with the team… and we have a beta version: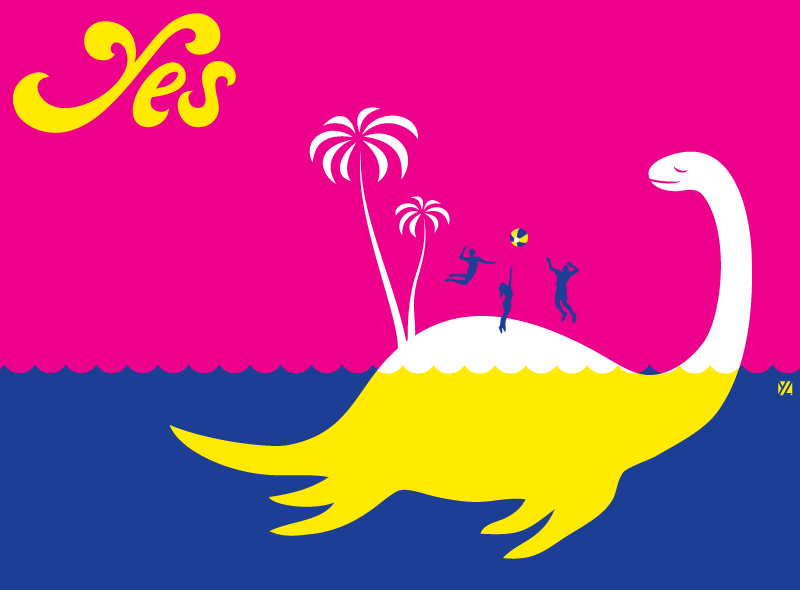 We decided those people in the last version are too pro-volleyball sporty, so I changed them to a more chilled vibe.
Also Team suggested we should have a lighter blue color tone to match the summer feel and a bigger smile on the YesSaurus… so Voilà!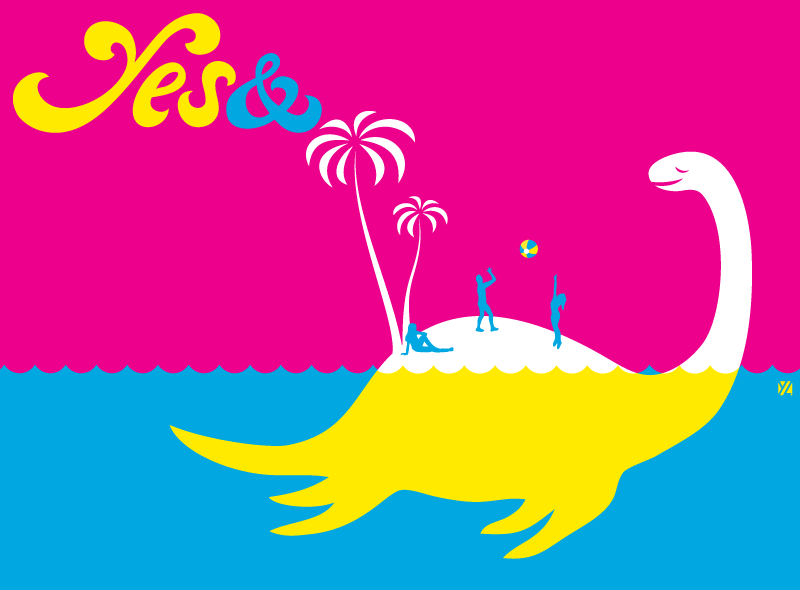 YxYY Founders: Willo, Ann Larie, Amy, Debs & Hillary @ YxYY002 event: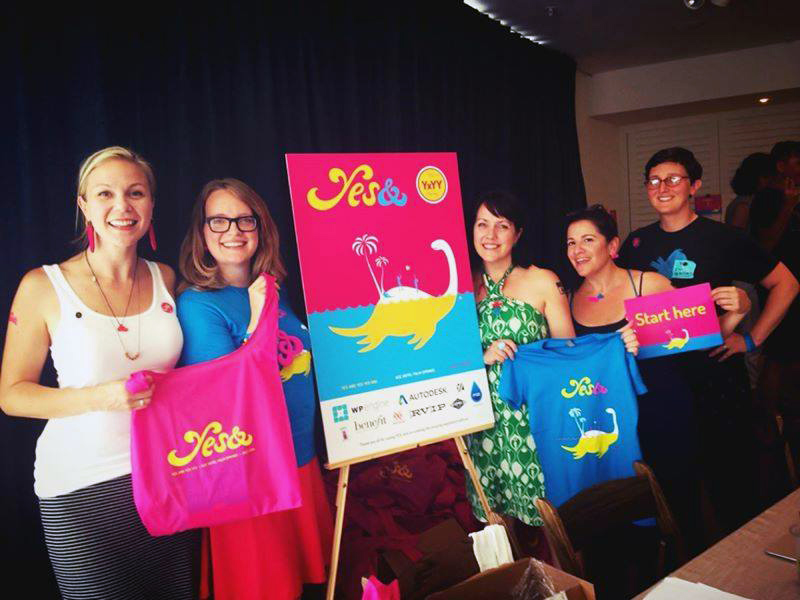 © Copyright 2014 Yiying Lu. Contact Yiying
Images on this website are copyrighted & may not be reproduced in any form without my explicit written permission. Thanks.